The staples of Indian cuisine are
rice
, atta (
whole wheat flour
), and a variety of
pulses
, the most important of which are masoor (most often red
lentil
), channa (
bengal gram
), toor (
pigeon pea
or yellow gram), urad (black gram), and mung (green gram). Pulses may be used whole, dehusked – for example, dhuli moong or dhuli urad – or split. Split pulses, or dal, are used extensively. Some pulses, like channa and mung, are also processed into flour (besan).
Most Indian curries are cooked in vegetable oil. In northern and western India,
peanut oil
is most popular for cooking, while in eastern India,
mustard oil
is more commonly used.
Coconut oil
is used widely along the western coast especially in Kerala; gingelly (sesame) oil is common in the south as well. In recent decades,
sunflower
oil and
soybean
oil have gained popularity all over India. Hydrogenated vegetable oil, known as Vanaspati ghee, is another popular cooking medium. Butter-based
ghee
, or desi ghee, is less used than formerly.
The most important or frequently used spices in Indian cuisine are
chilli pepper
,
black mustard
seed (rai),
cumin
(jeera),
turmeric
(haldi, manjal),
fenugreek
(methi),
asafoetida
(hing, perungayam),
ginger
(adrak, inji),
coriander
(dhania), and
garlic
(lehsun, poondu). Popular
spice mixes
are garam masala, a powder that typically includes five or more dried spices, especially cardamom, cinnamon, and
clove
. Each region, and sometimes each individual chef, has a distinctive blend of garam masala. Goda masala is a similar sweet spice mix, popular in
Maharashtra
. Some leaves are commonly used, including tejpat (Bay leaf),
coriander
leaf,
fenugreek
leaf, and
mint
leaf. The common use of
curry leaves and curry roots
is typical of all South Indian cuisine. Sweet dishes are seasoned with
cardamom
,
saffron
,
nutmeg
, and
rose
petal essences.
(excerpt from Wikipedia)
Indian Naan (Authentic Asian Indian Flatbread)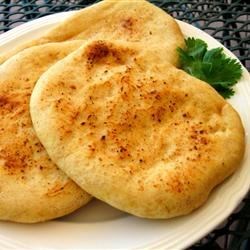 Ingredients
2/3 cup warm water (110 degrees F/45 degrees C)
1 teaspoon active dry yeast
1 teaspoon white sugar
2 cups all-purpose flour
1 teaspoon salt
1/4 cup ghee
2 tablespoons plain yogurt
2 teaspoons kalonji (onion seed)
Directions
Whisk the warm water with the yeast and sugar until the yeast is dissolved. Cover and let stand in a warm place for 10 minutes.

Sift flour and salt three times into a large bowl add the yeast mixture, half of the ghee and all the yogurt. Mix into a soft dough then knead on a floured surface for about 5 minutes or until dough is smooth and elastic. Place the dough in a large greased bowl, cover and let stand in a warm place for 1 1/2 hours or until the dough is doubled in size .

Punch down dough then knead for 5 minutes. Divide dough into 6 pieces. Roll each piece out into 8 inch round naans.

Cover an oven tray with foil and grease the foil. Brush the naan with a little of the remaining ghee and sprinkle with some of the kalonji. Cook naan one at a time under a very hot grill for about 2 minutes on each side or until puffed and just browned.